On 1-3, September, the 1st FAI International Drones Conference and Expo took place in Lausanne, Switzerland. The Conference and Expo are part of the EPFL Drone Days 2017 (Ecole Polytechnique Fédérale de Lausanne) that features Lausanne, Canton de Vaud and Switzerland as a globally relevant hub for drones. The landmark event couldn't have happened without FAI's global tech partner Noosphere Ventures, that was represented by Michael Ryabokon, head of Noosphere Ventures Ukraine, and Vladimir Vasiliev, CTO of EOS Inc., an Association Noosphere supporter.
"The exponentially fast growing use of drones continues in society, rescue operations and daily logistics. The safety issues coming with these developments will be discussed by experts from government authorities and those who are at the forefront in developing state-of-the-art technology to make drones a regular part of air traffic in the sky. Last but not least, drones are already being seen as a top level air sport, and emerging to become the number one air and maybe e-motor sport," said Frits Brink, FAI President, in the invitational speech at the Conference.
The conference's three main themes were: Drones and Innovation, Drones and Safety, and Drones and Sport. As FAI Secretary General, Susanne Schödel, said, the conference was unique as it combined innovation, safety and sports – the whole global drone ecosystem.
The conference ran over three days and featured a mix of international speakers from the world of drones, site visits and social events.
The conference included talks on: urban transportation and drones; logistics; humanitarian needs; public safety; agriculture; flying robots; earth observation; data collection; best use; anti‑collision and radar; air transport and public space; education and schools; drone sports/racing, eGaming and eSports.
Vladimir Vasiliev, EOS CTO, with his presentation at the conference, delivered a number of interesting insights on the synergy of civil drones and earth data analytics practices, based on his experience at EOS.
In turn, Mikhail Ryabokon, who is a co-founder of Noosphere along with Max Polyakov, presented on the second day of the conference on a "Drones and Sport" theme. With his speech, he raised the issue of drone racing becoming a sport discipline and shared the case of drone racing development in Ukraine.
"When we organized the first Drone competition in 2015 in Ukraine, our main mission was to involve as many drones owners as possible, to give the sportsmen of different ages an opportunity to participate in competitions and to promote engineering competitions. 2 years later, the amateur sporting event has become a World Cup Stage of FAI official contest," said Mikhail Ryabokon in his presentation.
After two days of talking and listening about the world of drones and drone technology, it was time to see some of the latest ideas in action. Hosted by École Polytechnique Fédérale de Lausanne, the ideas expo showcased more than a dozen of the latest, cutting-edge developments in drone technology.
FAI, the World Air Sports Federation, started working with Noosphere Ventures nearly 4 years ago. In 2015, Noosphere organized the FAI European Championship for Space Models, the next year, they hosted the FAI World Championship for Space Models 2016. This year Noosphere became FAI's Global Technical Partner and we are organizing the Championship of Ukraine in the F3U class, on 23-24 of September!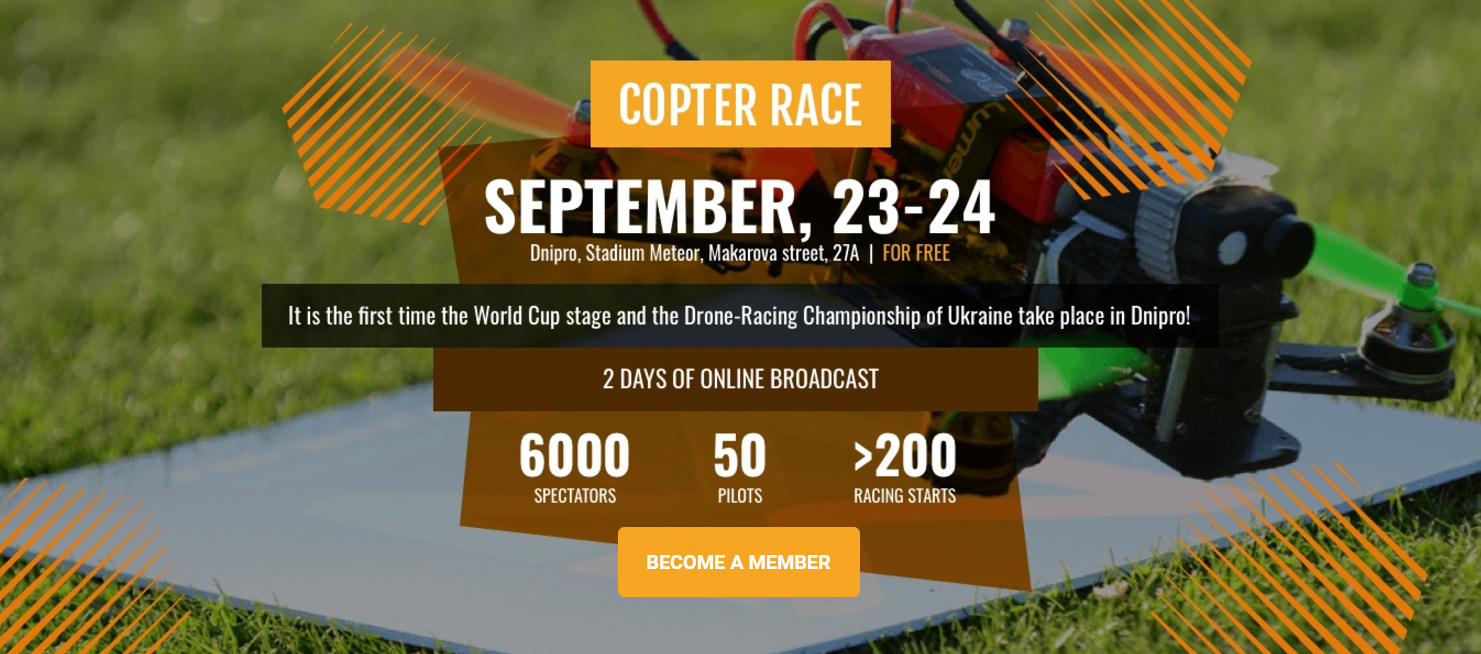 For the first time in Dnipro, within the framework of Noosphere's traditional Copter Race, the Noosphere Race Cup will be held, as a World Cup stage. The best pilots of Ukraine and the neighboring countries will meet at the biggest race of the year to compete for a place in the World Cup. You wouldn't want to miss this battle! For the first time in Dnipro there will be a race on a night track.
Copter Race is a two-day holiday for the whole family, which includes spectacular Copter races, workshops, rocket launches, contests and a food zone. Entrance for spectators and participation for pilots is free.
Don't miss the spectacular drones formula 1!