In order to go to space, you need great minds. With that thought, Noosphere ventured to bring the world's greatest spacecraft minds together. Thus the Noosphere Space Summit concept was born.

The Summit took place April 17-18, 2019 at the Taras Shevchenko National University of Kyiv. 15 speakers and special guests gathered with lectures and roundtable discussions for the public.

The event was dedicated in honour of Yuri Kondratyuk — the famous Ukrainian engineer, pioneer of astronautics and spaceflight. Yuri is known for his concept of the first known lunar orbit rendezvous (LOR) in 1919, a development that is key to Moon landings and the return journey to Earth. LOR was used to plot Apollo 11, first manned spaceflight to the Moon in 1969.

Day one of Noosphere Space Summit saw the Vernadsky Challenge startup competition, with speakers and presentations on day two.

The first stream of speeches by the Summit's speakers started on April 18.
SPACE INDUSTRY PIONEERS

We heard about the development of the space industry of Ukraine, with a look back at Yuzhmash. Director General of SE "PA Yuzhniy Machine Building Plant" Sergey Voit shared his thoughts and experiences.


Next, we heard from Yaroslav Pustovyi, former NASA astronaut from Ukraine and his thoughts on "New Space: what happened to the "old" one".

Mr Pustovyi commented that in the past, governments would dictate the technical requirements of space exploration, control the project and decided how to use the eventual product. With New Space, however, private companies develop concepts, finds investments, and build the whole system. They are then able to apply or sell technologies to other products.
There was a surprise for Yaroslav. After he finished the speech, Eduard Kuznetsov, deputy head at the State Space Agency of Ukraine, joined the stage. Eduard announced the new award by SSAU – a Kadeniuk Spaceman Star. This is the award for people who made a major contribution to space development in Ukraine. Mr Kuznetsov awarded Yaroslav Pustovyi with the Kadeniuk Spaceman Star. Yaroslav was honoured to be the first to receive this award.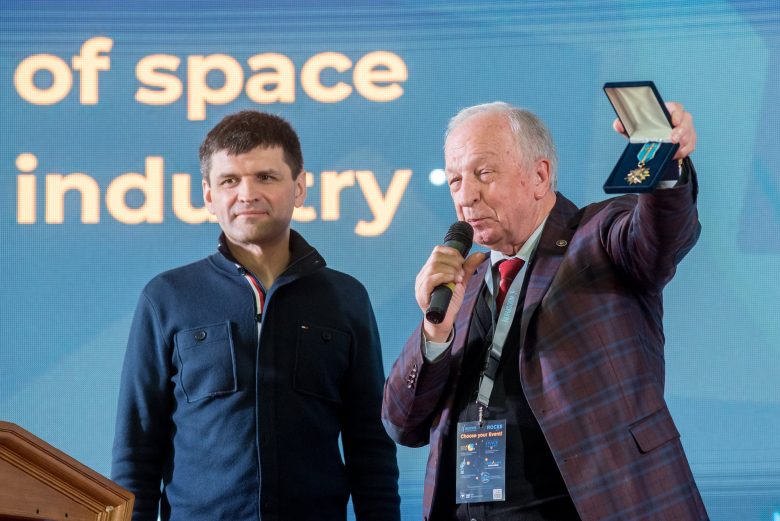 Shea Ferring, Vice President of Mission Assurance at Firefly Aerospace took the microphone to discuss the clash between the New Space and Heritage, or Old Space.

Finally, Laurent S. Jaffart, Vice President and Head of Constellations and Future Solutions (Marketing and Sales) at Airbus Defence and Space spoke on the socio-economic benefits of space and 4th industrial revolution of space with the emergence of the new space race.

"The 4th industrial revolution in Space is often mistaken to only mean New Space. And the New Space is often mistaken to only mean new players," said Mr. Jaffart. He adds that New Space includes private investments and startups as well as the advancement of emerging concepts like cubesats.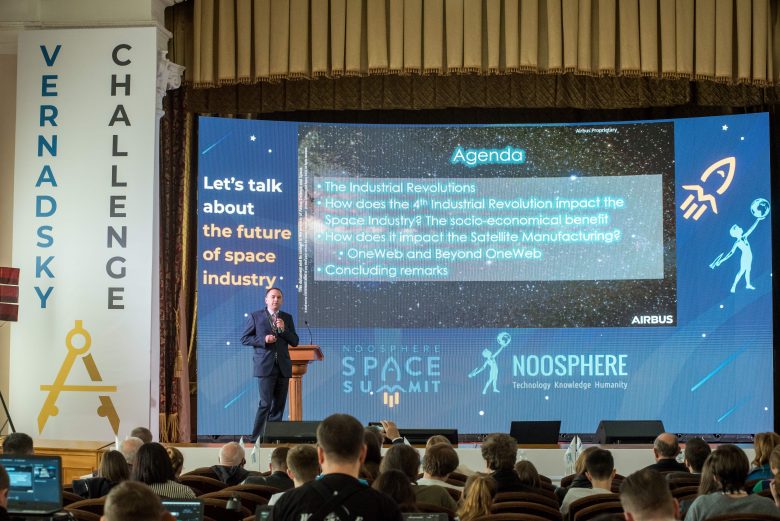 At the end of the Pioneering segment, winners of the Noosphere Space Art Challenge received their awards.

NEW SPACE – Faster, better cheaper access to space

Kicking off with an epic and moving video presentation, Thomas Markusic, CEO of Firefly Aerospace introduced the promise of New Space. New Space is the idea of private companies driving the research and innovation to advance space travel, exploration and technologies. Mr Markusic told about the achievements and visions of private space companies and even mentioned that he used to drive the exact Tesla Elon Musk sent to space back in February 2018.

After that, Lynn Zoenen, Global Affairs Manager at Ispace, stepped up to discuss commercial lunar exploration.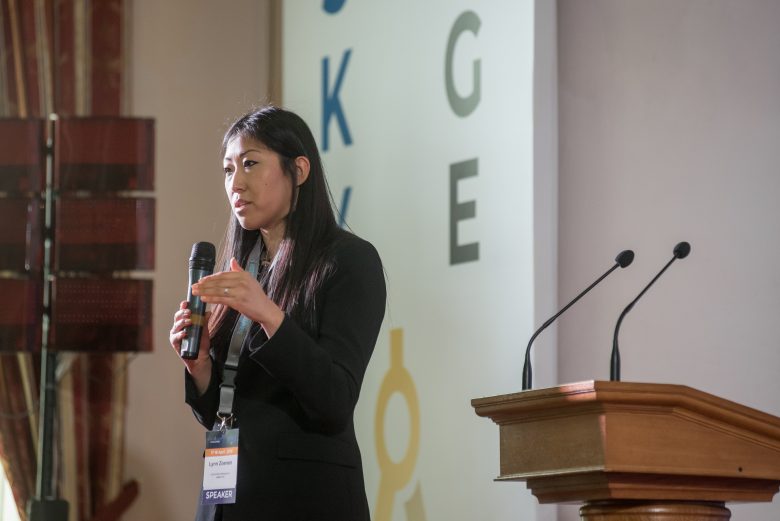 On the topic of lunar safety, Ms Zoenen commented that safety is something we really have to address, but our human nature is to explore, to look beyond what we currently have and to see what we can discover. Ms Zoenen underlined the importance of understanding how to land mission or lunar robotics without disrupting or affecting future lunar missions.

Luca Rossettini, CEO and Founder of D-Orbit, presented the idea of New Space's economy enabling factors such as orbital transportation, servicing and waste management.
He states "The market is moving towards "last-minute" trips. Booking, delivery, and launch requirements applied to a traditional launch model will be updated following new small satellites trends."
Karl Baker, President and Founder of Summit Space Corporation, examined the opportunities and constraints of the satellite constellation market.
Head of analytics at Bryce Space & Technology, Manny Shar discussed the need for startups as a 21st-century investment in space.

The New Space segment concluded with a roundtable discussion, with John Isella of Firefly Aerospace as the moderator.
At this point, the Space Summit diverged into two streams, with Inspirational Stories located in another auditorium with Yaroslav Pustovyi, a former NASA astronaut, acting as the moderator. The stream was dedicated to recognizing the success stories of Ukrainians who were involved in space-related companies and projects.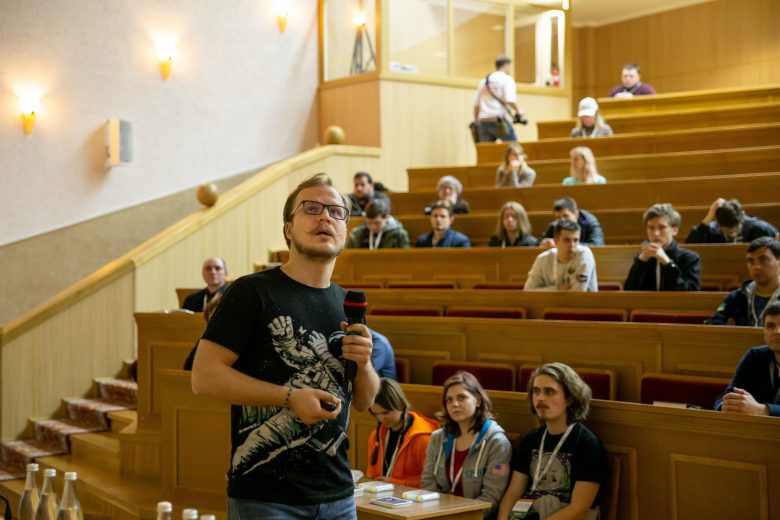 Sharing their experiences were:
– Anatoliy Koval, Physicist, Programmer, participant of the COMPASS experiment at CERN
– Anton Leontiev PhD at the Ariel University, participant of the state Israel space R&D projects
– Iuliia Strotska, BID and Business development manager at Astri Poland
– Dmyto Faizulin, PhD at the laboratory of space dynamics and spacecraft environment interaction engineering of Kyushu Institute of Technology, Japan.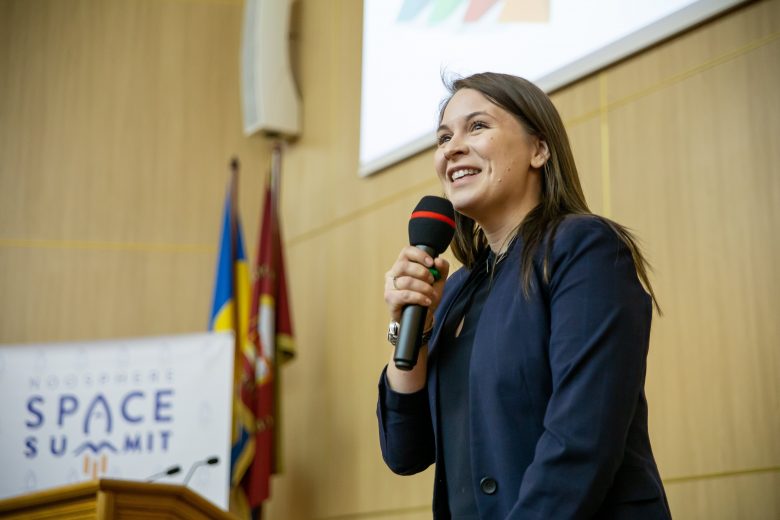 Arthur Dula, Space Lawyer, Patent Attorney, Chairman and Founder of the Excalibur Almaz spaceflight company, also spoke to the group at the Inspirational Stories stream. To assist in inspiring visitors, Mr Dula brought a model of a space suit and minerals from space.

While the stories were being shared elsewhere, the Transformational Space Legislation stream continued at the main area.
Kerry Scarlot and Lana Muranovic from the US law firm Baker Hostetler commenced with a discussion about the application of US law to the Ukrainian New Space industry.
Next, Anastasiya Bolkhovitinova, Legal Director in international law firm DLA Piper's Kyiv office, spoke about R&D centres in Ukraine and the impact and effects of technology transfer.
We heard about Global Space Governance for the New Space from Dr Olga Stelmakh-Drescher, Director of Business Development and International Affairs at the International Institute of Space Commerce.
Dr Stelmakh-Drescher comments "There is no New Space without Old Space." She noted that we observe a paradigm shift wherein space activities (especially LEO) are being more and more commercially driven. She states that Global Space Governance should be participatory and inclusive, and requires open platforms for dialogue where the voice of the private sector can be heard and taken into account.
Dr Stelmakh-Drescher urges New Space actors to ask themselves: do they want to govern or be governed, and indicates that Space actors should be more responsible and consider developing social responsibility standards. "An appropriate regulatory enterprise should maximize legal certainty and not create a legal burden for New Space activities" – she concluded.

Following that, Yuriy Zabiyaka, Head of Legal at Noosphere spoke about the necessary amendments to the space legislation of Ukraine.
The final presentation was Jeff Campbell of Northrop Grumman Innovation Systems Inc, who spoke about the lessons he and his company learned while doing aerospace business in Ukraine.

The section ended with the roundtable discussion among speakers with Yuriy Zabiyaka acting as a moderator.

The two-day event was relaxed and friendly. Visitors asked a lot of questions in different languages and took photos with speakers and guests. Many guests were candid in sharing their thoughts and opinions with visitors and were very approachable and willing to speak.

Noosphere was honoured to host this inaugural event and we hope to establish an ongoing tradition. Follow Noosphere and Noosphere Space Summit on social media for updates.