The first weekend of June has traditionally been a date for the largest tech event in Dnipro — BestRoboFest. 2018 was the 3rd time Noosphere organized a festival to promote robotics and technology. To attract more guests and create a summer atmosphere, BestRoboFest was moved to a new location this year — Bartolomeo Best River Resort.

The location was divided into several areas.
Expo Zone: arts, activities and records
Visitors were able to explore the world of science via exhibitions in this zone. Guests visited the planetarium, robotics workshops, experiment tables, photo areas and a place for art with boards and paints. Children could even get an ink BestRoboFest logo tattoo. This part was also memorable for the Firefly Aerospace photo area, where company representatives showed off miniatures of their Alpha and Beta space rockets.

Visitors were also able to enjoy the central exhibit at BestRoboFest —  a 6'1'' tall humanoid robot called Dobrobot. It was equipped with a cash receptacle for people to make charitable contributions. On the second day of the festival, Dobrobot was officially ranked as the largest charity robot in Ukraine!


He wasn't the only robot at the festival. Visitors took hundreds of photos with mobile replicas of Bumblebee and Optimus Prime from Transformers movie.

Copter Race Zone: watch it like a drone
This is where visitors were able to enjoy flying copter shows. Professional pilots from the Copter Race team demonstrated copter stunts in the air. Visitors were able to wear a special helmet to see the track from the camera view on the drone. Unlike previous years, there were no copter race competitions at BestRoboFest, but that's OK, because we're holding a stand-alone event for copter races this Fall.
MonsterCarsUA: enter the word of monster vehicles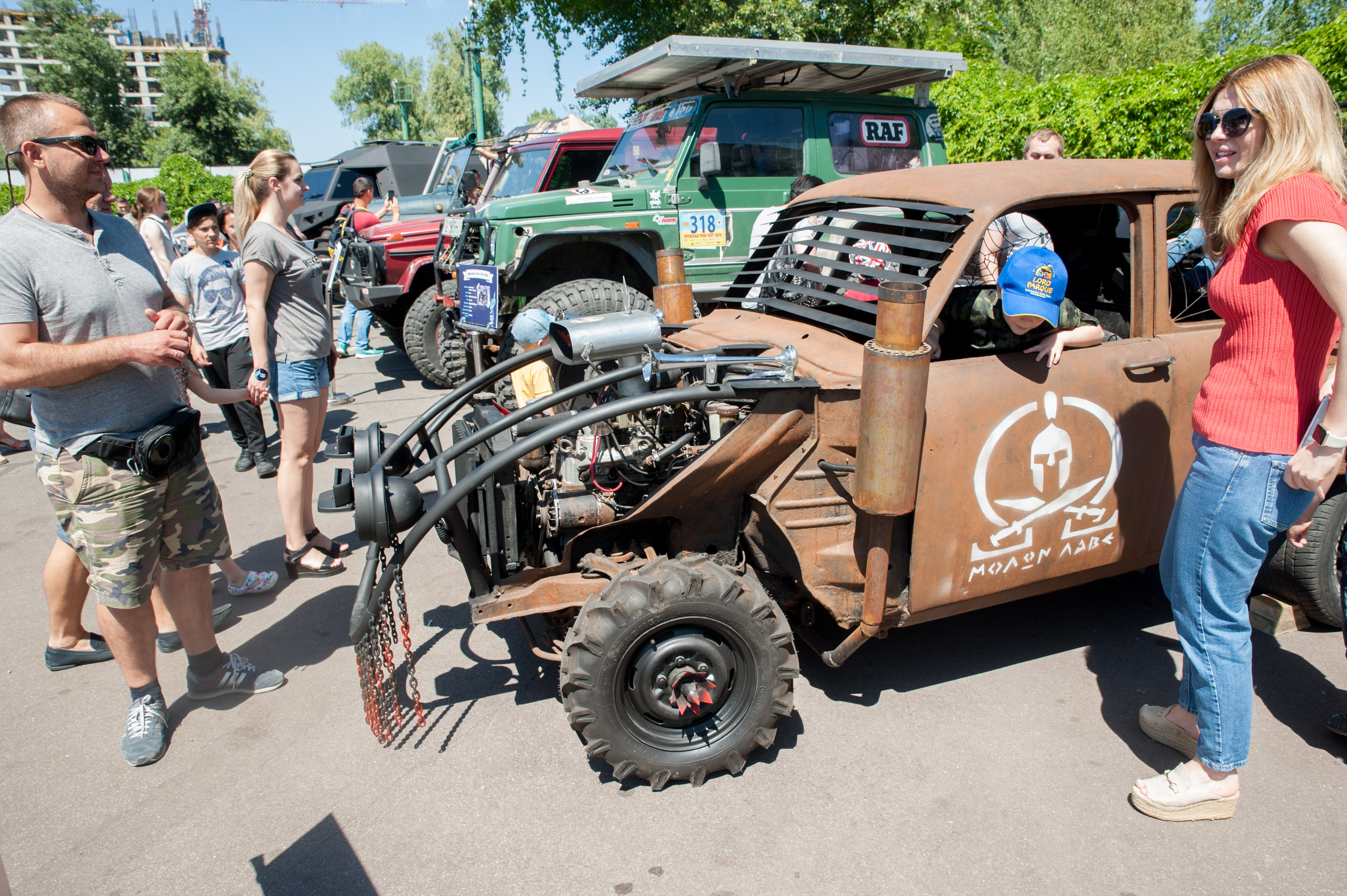 Traditionally, the monster vehicle exhibition, MonsterCarsUA, has taken place as a part of BestRoboFest. 21 monster vehicles took part in a two-day exhibition positioned near the gates of the festival. The judges, which included our co-founder, Michael Ryabokon, and automobile industry journalist Larisa Maksimenko choose the 3 best participants and awarded them with trophies, certificates and cash prizes.
3rd place and $1000 — BMW Phantom, based on a 1938 BMW:
2nd place and $3000 — Z-Max – a fully custom vehicle with a Fiat 126p engine:

1st place and $5000 — ironical sabertooth Teshevoz, based on a legendary soviet GAZ M20 Pobeda:


The MonsterCarsUA winners and participants were awarded their prizes on Sunday, June 3rd.
Competition Zone: the main card of the event
BestRoboFest has traditionally been an arena for robot competitions. More than 200 students from robotics schools from all over Ukraine came to Dnipro to compete in 4 kinds of robot competitions:
1 – RoboRace
This is a race between robots in two weight classes. The robots needed to follow a white line on a special track and get the best timing. The winners were :
RoboRace S
1st place — Rezon robot by Ihor Sopin from Zaporizhya
2nd place — Robot School team from Poltava
3rd place — Fast Line team from Dnipro
RoboRace L                                                                             
1st place — Vsesvit 2 team by Rabeshko family from Zaporizhya
2nd place — Opossum team by Pavel Belousov from Kharkiv
3rd place —  RoboCity-Vlad robot by Vlad Galeta from Dnipro
2 – Scratch
This is a creative programming competition, where participants needed to create a game using the Scratch or S4A environment. This year projects needed to be on space exploration. The judges included Noosphere CTO, Yury Letser, and Dnipro University tutor, Tatiana Bulanaya, chose the three winners.
1st place — Robot School team from Poltava
2nd place — Kirill Blagodarov, representing Aitishka team from Dnipro
3rd place — Alisa Pikiner, representing Hurtom team from Dnipro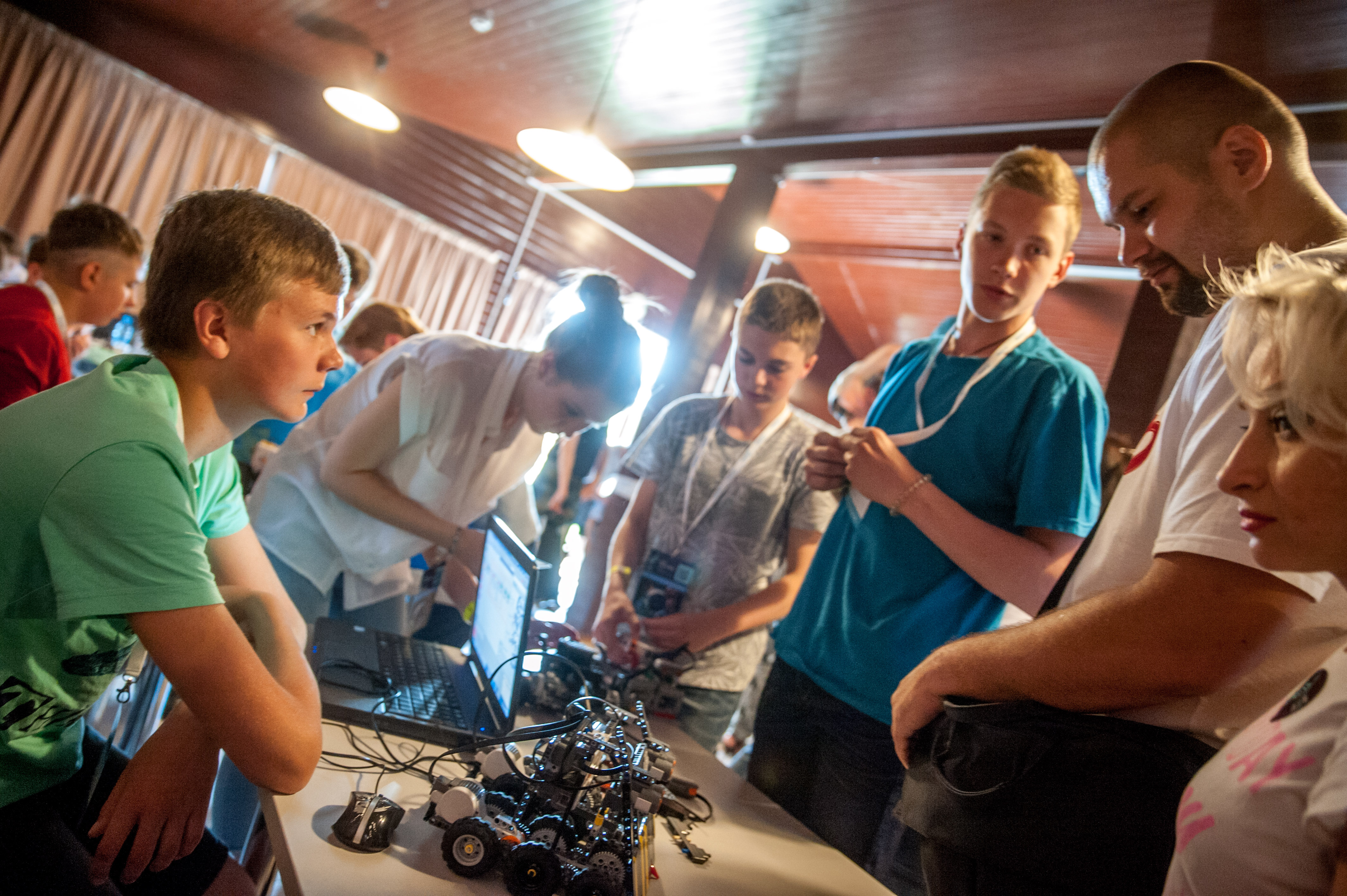 3 – RoboSumo
The name says it all. The competitor robots needed to push their opponent robots out of the special ring. There were two kinds of competitions: between autonomous robots and between remote-controlled ones. The winners were:
Remote controlled lego sumo:  
1st place — Dmitrenko Maksim from Zaporizhya;
2nd place — Sopin Vladislav from Zaporizhya;
3rd place — Serhii Derevianko from Dobrovelichkivka.
Autonomous lego sumo:
1st place — Sopin Vladislav from Zaporizhya;
2nd place — Serhii Derevianko from Dobrovelichkivka;
3rd place — Victoria Hubar from Dobrovelichkivka.
Apart from traditional Lego sumo, this year we also held experimental competitions for custom, non-lego sumo robots, both remote-controlled and autonomous. The winners were:
Autonomous craft non-lego sumo:
1st place — Alexander Taran, representing Hoopty (Mark II) team from Dnipro;
2nd place — Ihor Sopin from Zaporizhya.
Remote-controlled craft non-lego sumo:
1st place — Yakimenko Timofei and Sinkovsky Alexander, representing Dom Robotov team from Dnipro;
2nd place — Head Works team from Dnipro.
4 – Free Style

The name of this competition also speaks for itself. Participants brought their ideas to life and presented them to the judges of DNU and the Noosphere Engineering School tutors. No limits, no rules. Just dedication, creativity and technology. Participants were divided into two age groups: Juniors (0-14 years old) and Seniors 15+.
After two days of FreeStyle exhibition, the jury has announced the winners:
Free Style Juniors: RoboHouse team from Kherson with WAF project.
Free Style Seniors: Student team from Cherkasi with Bio Prothesis and Robot-Artist projects.
People's choice Free Style award went to Robot School team from Poltava for their Smart House and Medieval Fortress projects.
All the winners were awarded cups, diplomas and prizes.
The competition among the first June weekend family events in Dnirpo was very high. One of the main roads to the festival location was also blocked due to a triathlon. Despite this, BestRoboFest 2018 managed to attract more than 25,000 visitors over two days.

We are happy that Noospherian ideas found reflection in the minds of so many families. We are planning to keep the tradition going by holding the next BestRobobFest on the first weekend of June, 2019.
Check out photos and stories from BestRoboFest 2017 and 2016 and BestRoboFest official website  along with this video of the event: