Noosphere is always involved with the most innovative events in every country we do business in. That's why Noospherian stalwarts couldn't miss Kyiv International Economic Forum 2018 that took place on October 18-19 at the Parkovy Center.

Noosphere organized the united exhibition of private space-oriented companies with R&D centers located in Ukraine.
The expo zone has two facets:
1 – Economic Value Chain in the Modern Space Industry by EOS, SETS, FIREFLY
2 – "From Earth to Space: the application of space technologies to solve problems in the agriculture industry", by EOS.
The theme parallels the stages of the satellite-industry economic value chain:
A model of the Firefly Beta rocket – symbolizing the starting point of a satellites journey to orbit, followed by a short video of a rocket engine test

SETS Electric Propulsion Engine – both a detailed model and an engine running live in a vacuum capsule

A model of an Earth data collection satellite

EOS Data Analytics Platform: a system that translates "rocket science" into business language, followed by a slideshow of visualized use cases on a plasma screen and printed copies.
The main attractions of the exhibition were the practical sides of the businesses:
– A Firefly video and an LV model to show the development of a launch vehicle
– A SETS electric thruster in operation in a vacuum chamber
– several agriculture use cases, forestry, 3D city models, ocean monitoring, and agro insurance by EOS.
THE ATTENDEES
While attending the conference, the Prime Minister of Ukraine, Vladimir Groysman, visited the exhibits and was sincerely amazed by the scale of the businesses that we have built here in Ukraine. The Prime Minister looked delighted while receiving a special gift – a rocket model that symbolized the commencement of the private space exploration era in Ukraine.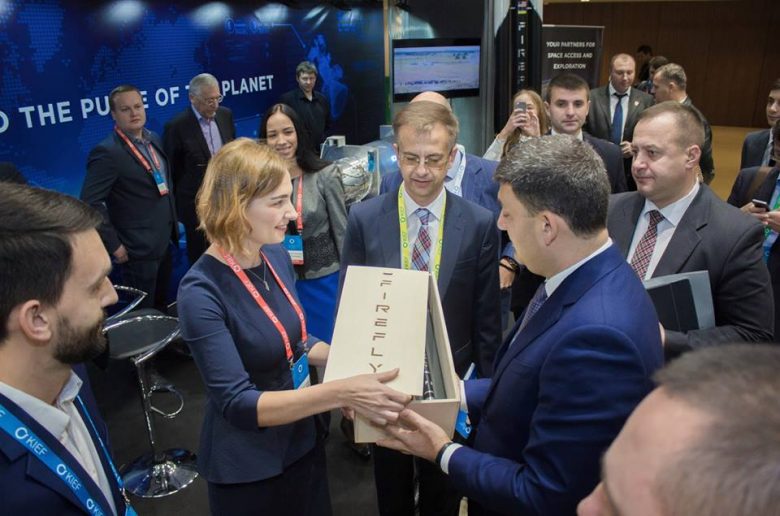 In fact, the exhibition of Noosphere stalwarts was the only one at which the Prime Minister stopped.Although the general public was not as aware of the recent advances in the space industry, attendees seemed really excited to hear more about the initiatives and, most importantly, how distant things such as satellites can affect their lives and businesses in such a good way.
Many people were truly astonished by their achievements, and, subsequently, a lot of questions were asked about the owner/investor, Max Polyakov, especially when they learned he was from Ukraine. Business owners left their cards, excited about the possibility of arranging a personal meeting.
THE RESULTS
Exhibiting at Kyiv International Economic Forum 2018 gave representatives a unique opportunity to raise awareness of Noosphere's mission, activities, and accomplishments with Ukrainian political leaders, and business owners, as well as international attendees and business leaders from over 30 countries.
Connections with many companies were established during two days of the conference, including BKW group, Myronivskyi Khliboprodukt, InAgro, Ukravit, Empire States Capital partners, Meteotrek, UMG investments, Ministry of Ecology and Natural Resources, Huawei, Group of Companies Effective Investments, Unit.city, Agrohub platform, and PJSC Concern Galnaftogaz.
In addition to that, Noosphere's participation at the forum was highlighted in the media. One of the most well-known Ukrainian TV channels, ICTV, included an interview with our representatives into the evening news